It's spring in the Rockies, which means it's time to dust off a bunch of gear and then contemplate their use over the coming months. It's time to pull out the guidebooks and start dog-earing pages for another seasonal bucket list. It's time to dream big for the season ahead! But wait… it is spring in the Rockies, the mountains are still buried in snow, and the weather, at best, can't quite make up its mind. 
You don't have to look very far or very high to see that there is still an abundance of white stuff on the peaks meaning the high elevation and alpine hikes are still another month away from being accessible. It is also important to note that while winter is now officially in the rear-view mirror, there are hazards that linger through the shoulder season such as snowpack stability, avalanche hazard and cornices to name a few. Be patient, summer arrives every year, and so it will arrive this year too (eventually).
Fear not, for while we longingly look at the mountains around us and try with futility to negotiate with the weatherman, here are some low elevation, snow-free hiking options to get the legs moving. 
But wait, there's more...
If filling your days by hiking in April and May wasn't enough, we've paired some of our favorite local shoulder season saunters with some of our beloved coffee shops to build your perfect springtime itinerary in and around Cranbrook. 
Day 1: Wildflower hikes & kootenay grounds
Let's start off light and break you in easy with a couple wildflower hikes close to town. Arriving in the splendid East Kootenay can be a lot to take in: the fresh air, views for days. We don't want to overwhelm so get going with a little sit-down at the Kootenay Grounds Café & Bookstore in downtown Cranbrook. Grab your brew of choice, an Apple Crisp Muffin and flip through some local interest reading.
When all that's left is the crumbs and the last few drops, we head east. It is a short drive and a short hike to big views of Mount Fisher, the Steeples and the Kootenay River Valley. The Eager Hill lookout is a classic early season outing that is usually bone dry by early April with a primo vista year-round. By early-May, the flowers start to bloom, most notably the vibrant Arrowleaf Balsamroot. These yellow sunflower-like beauties are in abundance on sunny hillsides around town. Eager Hill is just one example. Another is the Wycliffe Buttes.
Here you'll find the pinnacle of spring wildflower viewing. This popular hike weaves around two prominent hills around the rural community and acreages of Wycliffe. The buttes themselves are located in a BC Nature Trust Reserve and serve as a critical wildlife corridor as well as a home to numerous species of flora.
Kootenay Grounds Café:  24 11th Avenue South, Cranbrook, BC. This quaint coffeeshop and bookstore opened in 2019 and features great coffee, delicious baking and local interest reading and literature. Drop in and say a big hello to Hailie and the crew. There will be a pot of Oso Negro coffee on just for you! The shop is open from 8am-3pm Monday to Friday. 
Eager Lookout Parking & Hiking Directions: From Cranbrook, drive east on Highway 3 for 6km. Partway up a passing lane approaching the Fort Steele turnoff is a non-descript dirt driveway off of the west-bound lanes. It comes up on you quickly, so keep a sharp eye out. Continue to the overpass and exit right, following signs for Radium. Loop around the overpass then retrace your route for 2km back to Cranbrook to the non-descript dirt driveway. Turn right off of the highway (a much safer exit than crossing a double solid line from a passing lane) and follow the dirt road a short ways to a parking area with outhouse and trail signage.
From the parking area, follow signage for Eager Lookout. It is 1.3km up a broad gravel pathway that ascends 120m to the lookout.  Pack a picnic, or take your Apple Crisp Muffin to go. Don't forget your camera!
Wycliffe Butte Parking & Hiking Directions: From Cranbrook, drive north on Highway 95A towards Kimberley for 16km and turn right onto Stirton Road. Follow the gravel road for 250m to a parking area on the left.
From the parking area, cross Stirton Road and locate the trail through the gate on the other side of the fence. The trail starts by ascending a hill under power lines. It then descends the other side and briefly enters the trees. Once through the trees, the trail splits. Pick the one aiming for the prominent butte. Ascend moderately to a lookout atop the butte with benches and first-class views of the Rocky Mountains. It is roughly 1.5km from the parking area to the top of the butte gaining 150m along the way. Alternate access and parking is via Porteous Road and McClure Road.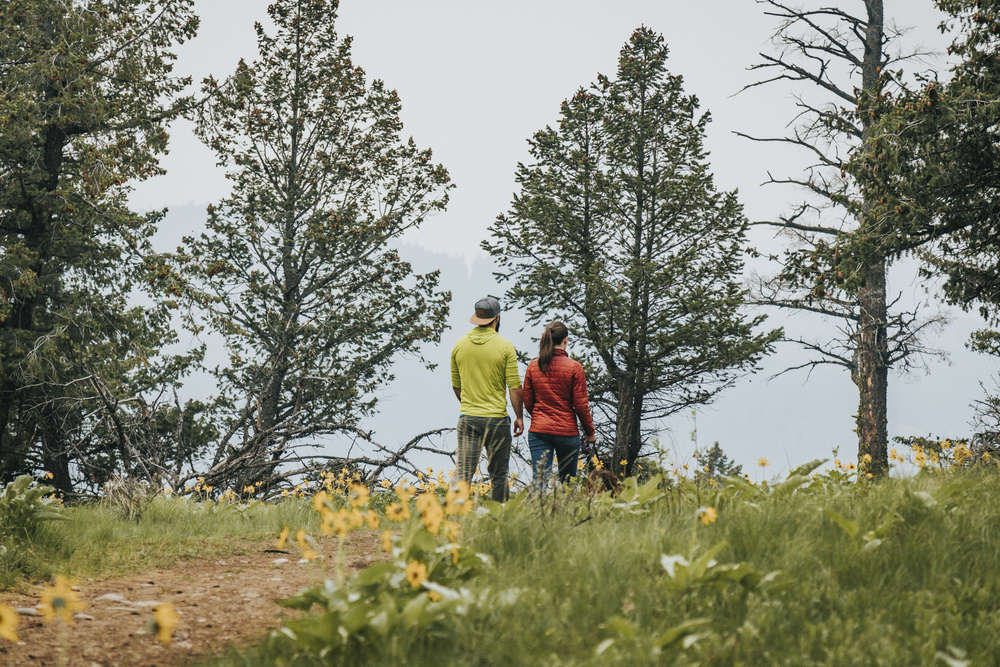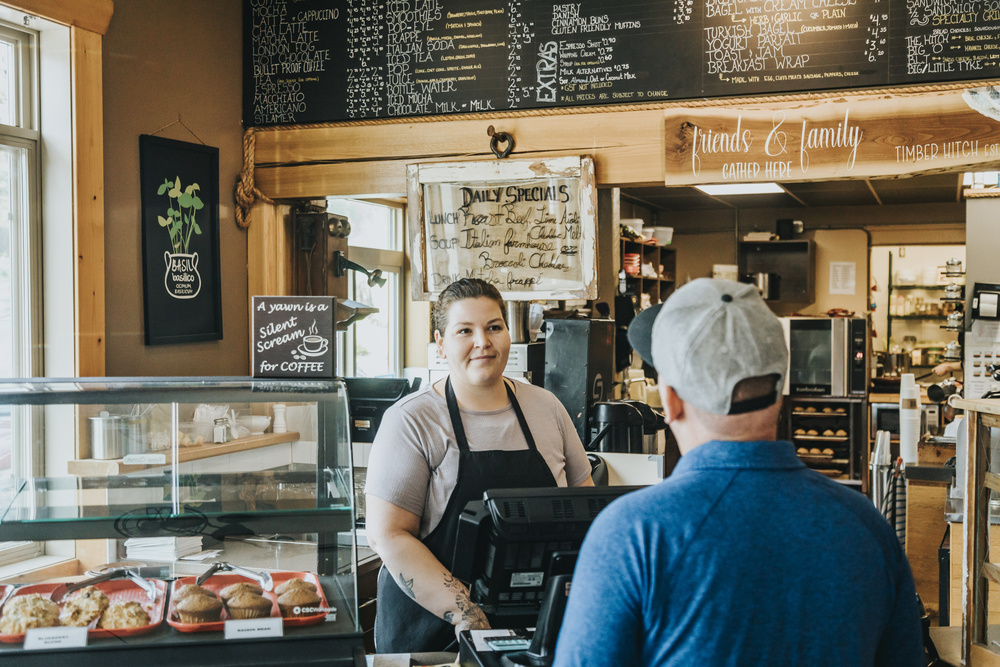 Day 2: Marysville Hikes & The Timber Hitch
While Kimberley may be a town away, it is a mere fifteen minute drive from the bustling metropolis of Cranbrook to Kimberley's "suburb', Marysville. It is here you will find the Timber Hitch Coffee Shop and the home of Brenda Bannister's pretty-much world famous scones. These little nuggets of heaven pair well with all things coffee as well as all things outdoors, even amidst the sometimes temperamental weather in the springtime. Lucky for you, bad weather seems to skirt Marysville completely where the St Mary and Kootenay River Valleys meet, creating a halo of beautiful blue skies. It is here where we'll spend our second day.
Timber Hitch Coffee Shop:  724A 304th ST, Kimberley, BC. The Timber Hitch has been the go-to breakfast and lunch spot in Marysville since 2015. Brenda Bannister and her team have a reputation for amazing baking and fantastic lunches. If you don't have time for a sit-down meal, you can conveniently zip through the drive-thru. Grab a freshly made scone and try one of their fruit smoothies on a warm day. For your morning fix, they've been known to whip up a killer Café Mocha. The coffee shop is open from 6am to 3pm Monday to Saturday.
Marysville Falls Parking & Hiking Directions: From the Timber Hitch, continue along the main highway through Marysville for 4 blocks to 303rd Ave. Turn right and park in the parking lot for Marysville Falls. Once on foot, cross the highway at the crosswalk and return to the creek. Head under the covered bridge, hand a left and follow the boardwalks and pathway for 300 metres to a viewpoint of the impressive waterfall.
St. Mary River Rim Parking & Hiking Directions: From Marysville Falls, head back toward Cranbrook on Highway 95A. 1km south of Marysville there is a large unsigned pullout on the right-hand side of the highway (usually a couple cars), pull off and park here. From the parking area, locate a wide trail that descends into the trees, cross a paved pathway (Rails to Trails) and into a large meadow-like clearing (250m). Cross the clearing until reaching the edge of the plateau (350m) at which point you'll be looking down on the St Mary River with views up the valley to your right and downstream toward the Rockies on your left. There are hoodoo-like formations that make up the tall banks of the river valley.
From this point you can head to the left (south) for as much as an additional 4km along a well-used trail along the rim above the St Mary River Valley. It winds through open pine forest with plenty of views along the way. Eventually, this trail will connect back to another parking area near the highway and Rails to Trails (4.7km one way). You can return the way you came at any time, or return via the paved pathway to complete an 8km loop.
Day 3: The Dewdney Trail & Hot Shots Cafe
A Raspberry Peach Bran Muffin at Hotshots is a meal in itself and all the energy you'll need to tackle one of the lesser-known and easily overlooked hikes above Fort Steele.  The Dewdney Trail is a network of trails used by prospectors and miners in the mid-1800s, with its eventual termination in the nearby Wild Horse Creek. A portion of the trail weaves through rolling hills above Fort Steel and the famed creek, known for its gold production starting in 1863. Here, the south-facing  hills and trails are often snow-free by late March and provide an excellent early season opportunity for some hiking with elevation gain, as well as stunning views of the area. 
Hot Shots Café:  1924 8th St N, Cranbrook, BC. Hot Shots in Cranbrook is one of the most popular gathering places in town, with its outdoor patio and plenty of indoor seating. Sherry Jackson and the team boast an extensive food and drink menu for breakfast and lunch. They have the best London Fog around and their hearty Bran Muffins are a meal in themselves. Hot Shots is open 7am-5pm Monday to Friday and 8am to 5pm on Saturdays.
Dewdney Trail Parking: From Cranbrook, drive east on Highway 3 for 8km. Turn off onto Highway 93/95 signed for Radium.  Drive north on Highway 93/95 for an additional 8km. Turn right at the Esso onto the Wardner-Fort Steele Road.  After 300m, turn left onto the Wild Horse Creek Road. Drive the narrow gravel road for 2.6km and park in an unsigned pullout on the left.
Hiking Distance: From the parking area, locate a well-used gravel trail that ascends through open slopes to a series of grassy knobs. There are great views of Mount Fisher and the Steeples to the south, the Kootenay River Valley and Rocky Mountain Trench to the north and the Purcell Mountains to the west. The first grassy knoll is reached in just 1.3km of hiking with about 200m of elevation gain. The tops of three of the hills can be connected in a 2.7km effort one way with 250m of elevation. Allow two hours round trip for your hike.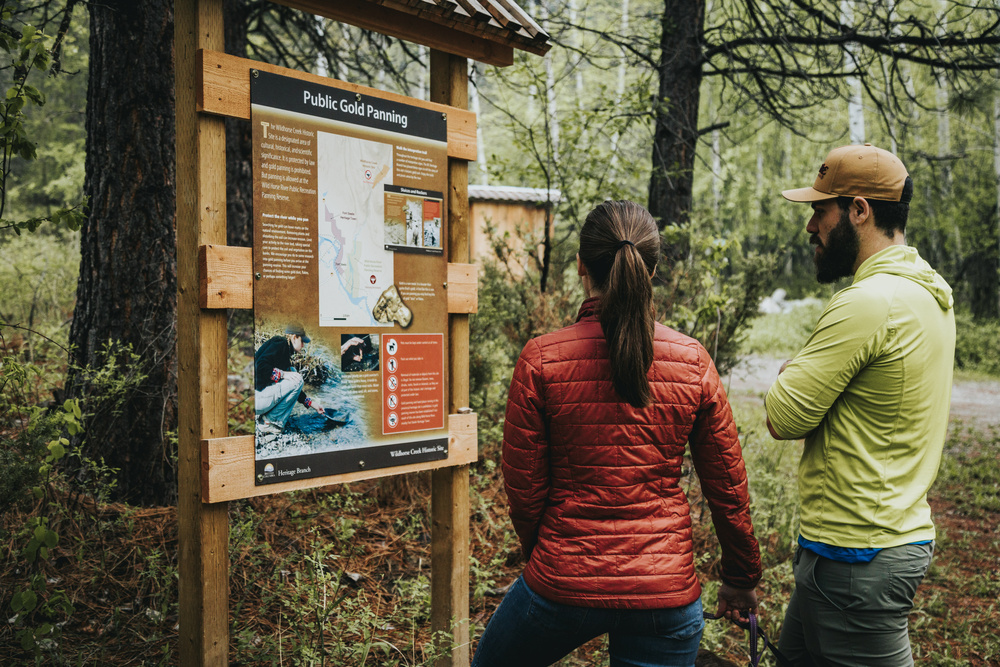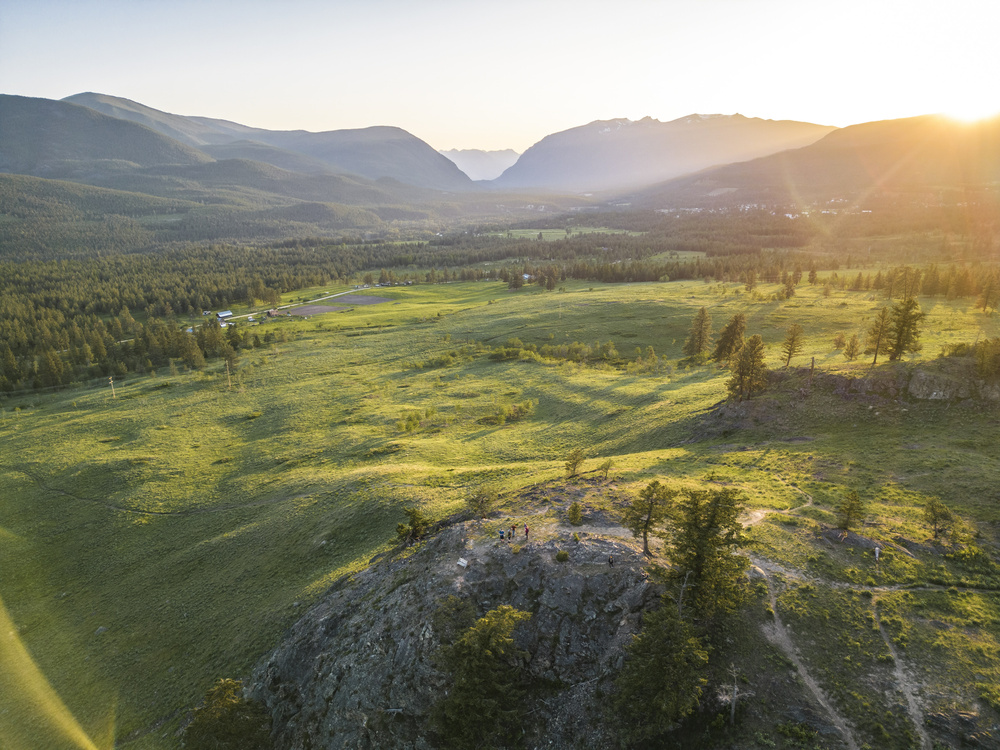 Rainy Day Option
If the weather gets the best of you and your stay in Cranbrook, we've got you covered there too. ARQ Mountain Centre is a spectacular indoor climbing gym complete with roped climbing walls, bouldering section, a kids play area and, wait for it… a Coffee Bar! Located at 1924 Industrial Road #2 in Cranbrook's industrial park, the whole family can stay active and caffeinated indoors if Mother Nature prevents you from heading out.
Shoulder Season Logistics
Springtime can be a tricky season to plan and pack for. It can be 2 degrees and pure gloom, or it can be 22 degrees under a cloudless sky. Without bringing along an entire wardrobe for every conceivable set of conditions, a light hiking pant and long sleeve shirt will be adequate for most outings this time of the year. This gives you the flexibility to pack light with a rain jacket to keep dry, a hat to shade the sun and maybe some thin gloves. Remember a bottle of water, a snack and your bear spray. A light hiking shoe or trail runner is all you need for the hikes mentioned here.
Cranbrook is the hub of the East Kootenay and boasts a complete array of services. Our partners at the St. Eugene Mission Golf Resort and Casino offer the perfect basecamp to explore the area including lodging, restaurants, camping, a casino and an 18-hole championship golf course. The golf course is in shape and wide open for play around mid-April.
Cranbrook's restaurant scene continues to thrive with two craft breweries (Fisher Peak Brewing at the Heid-Out Restaurant and Encore Brewing) and food options for every taste. If you're into international flavors, be sure to stop by Ella's Jamaican Restaurant or Allegra Mediterranean Restaurant. If pub food is what you crave, check out the Firehall Kitchen and Tap or the 19th Hole Bar and Grill at St. Eugene Golf Resort.
More Itineraries to Explore...